Minimally Invasive Spinal Surgery from an expert spine doctor and spinal surgeon.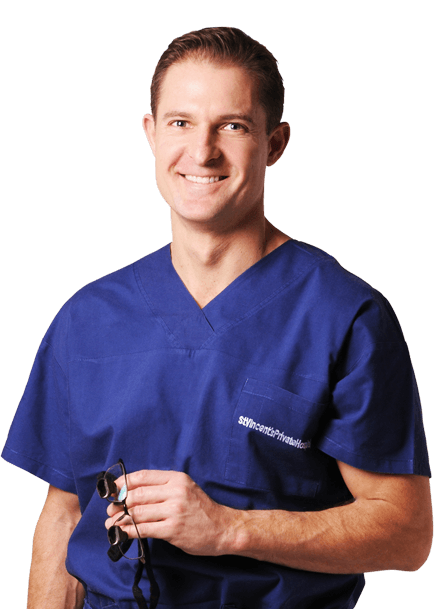 A/Prof Mark J. Winder

Brain Specialist & Spine Surgeon
A/Prof Mark J. Winder is a Consultant Neurosurgeon and Chairman of Neurosurgery at St Vincent's Hospital. He operates at St Vincent's Public and Private Hospitals and at St Luke's Hospital. He has been the Director of Clinical Training for Neurosurgical Trainees at St Vincent's (2010-2021). Here he is actively involved in current evidence-based research.
He leverages his expertise as a brain specialist and spine surgeon in his position as a conjoint lecturer. This position is held at both UNSW and the University of Notre Dame. Here at these institutions, he partakes in the instruction of Medicine.
He has undertaken subspecialist training in North America doing a 12 month Combined Specialist Spinal Fellowship at The University of Calgary, with a specific focus on Minimally Invasive Spinal Surgery.
He has trained under some of North America's finest specialist spinal surgeons. He was able to publish and present his research at several North American Spinal Meetings.
Upon completion of the Australasian Neurosurgical Fellowship, Dr Winder was selected for a Minimally Invasive Skull Base Fellowship. This was at the Swedish Neuroscience Institute and Swedish Science Foundation in Seattle, USA. He was mentored by internationally renowned skull base neurosurgeons Dr Marc Mayberg, Dr David Newell and Dr Greg Foltz.
A/Prof  Winder is a Fellow at the Royal Australasian College of Surgeons. He completed a Master's in Surgery (USyd) and has over 20 years of experience as a spine doctor and as a brain surgeon. He is currently involved in the development of the Australasian Neurosurgical Curriculum. He is similarly keen to foster international academic relationships through conjoint fellowship programs.
A/Prof Mark Winder has a particular interest in innovative technology to assist and perfect minimally invasive surgery for both skull base and spinal conditions. There is evolving evidence suggesting superiority of endoscopic approaches in skull base surgery as compared to Open procedures. This is regarding cure rates, patient satisfaction, length of hospital stay, intracranial visualization and most importantly outcome measures. His specialization includes Pituitary Tumours, meningiomas and chordomas. If you have one of these conditions , please call to book an appointment for a review.
Please call us to complete a preliminary interview with a referral about your condition. If your condition is of special interest, we may want to speak to you directly when you call.