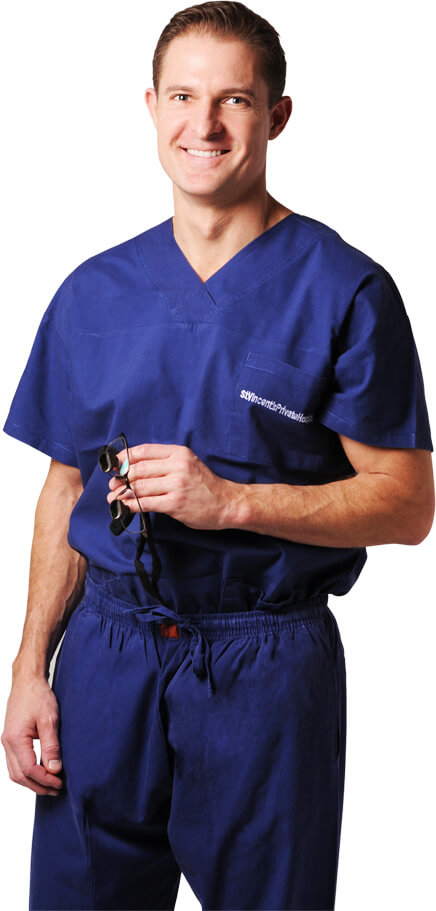 He has a special interest in endoscopic skull base surgery, focusing on tumors, chordomas and more.
A/Prof Mark J. Winder
Neurosurgeon & Spine Surgeon
A/Prof Mark J. Winder is an Australian trained Neurosurgeon. He is a Fellow of the Royal College of Surgeons and a member of the Neuro Surgical Society.
A/Prof Mark Winder initially trained as a physio at the University of Sydney. Here he specialised in sports bio mechanics and body movement. He worked at the Australian Institute of Sports Satellite Centres and toured with several Australian Teams. Furthermore, he was a member of the Australian Olympic Medical Team.
He was involved in the care of:
The Australian Kayak, Rowing and swimming teams,

Rugby Union (club and national),

International freestyle and downhill ski teams

Elite track and field athletes.
He has been a very proud member of the Australian Olympians Club for over 20 years. This membership manifested following his medical involvement at the Atlanta Olympic Games in 1996.
After seven years of spinal, bio mechanical and musculo skeletal assessment, A/Prof Winder decided to further his knowledge of neuro anatomy. This was done with the aim of streamlining surgical decision making.
A/Prof Winder attained his medical degree at the University of Sydney. He completed his Neuro Surgical Training throughout some of the Pacific's finest Hospitals. He concurrently completed a Master of Surgery (Neuro Surgery) at the University of Sydney in 2006. This was under the supervision of Professor Michael K. Morgan, attaining the highest regarded surgical achievement, the John Lowenthal Medal.
He was chosen to complete further subspecialist training in North America. Here he underwent a dedicated 12 month Combined Spinal Fellowship at the University of Calgary. This included a specific focus on Minimally Invasive Spinal Surgery.
He trained under some of North America's finest specialist spinal surgeons. He was able to publish and present his research at several North American Spinal Meetings.
A/Prof Winder completed the Neuro Surgical Fellowship from the Royal College. A/Prof Winder was then selected for a Minimally Invasive Skull Base Fellowship. This was at the Swedish Neuroscience Institute and Swedish Science Foundation in Seattle USA. Here, he was mentored by internationally renowned skull base neurosurgeons Dr Marc Mayberg, Dr David Newell and Dr Greg Foltz.
He specifically focused on tumours and skull base tumours. He also trained with the intention of extending his knowledge on endoscopic approaches in the management of brain tumours.
Throughout both fellowships, A/Prof Mark Winder maintained a strong research focus, completing multiple papers. He has also presented at North American meetings, teaching dissection courses and being actively involved in junior training. A/Prof Winder has extensive experience in global private hospitals.
He has a special interest in endoscopic skull base surgery, focusing on tumors, chordomas and more. Wherever appropriate, a minimally invasive endoscopic approach is utilized for the removal of anterior skull base lesions.
There is evolving evidence suggesting the higher success rates of endoscopic approaches compared to open approaches. The factors implicated in the method's success include cure rates, patient satisfaction, length of hospital stay and intra cranial visual representation.
He works with a dedicated skull base team, aimed at surgical success with minimal morbidity. He is one of the Faculty Directors of the Endoscopic Skull Base Dissection Courses held annually at St Vincent's Clinic. Here A/Prof Winder works closely with A/Prof Richard Harvey
A/Prof Mark J. Winder is the Director of Clinical Training at St Vincent's Hospital for Neuro Surgical Trainees. Here he is actively involved clinical research into genetic conditions. He is currently involved in the development of the Australian and New Zealand Neuro Surgical Curriculum. He is keen to foster international academic relationships through conjoint fellowship programs.
Contact the rooms with a referral to book an appointment.